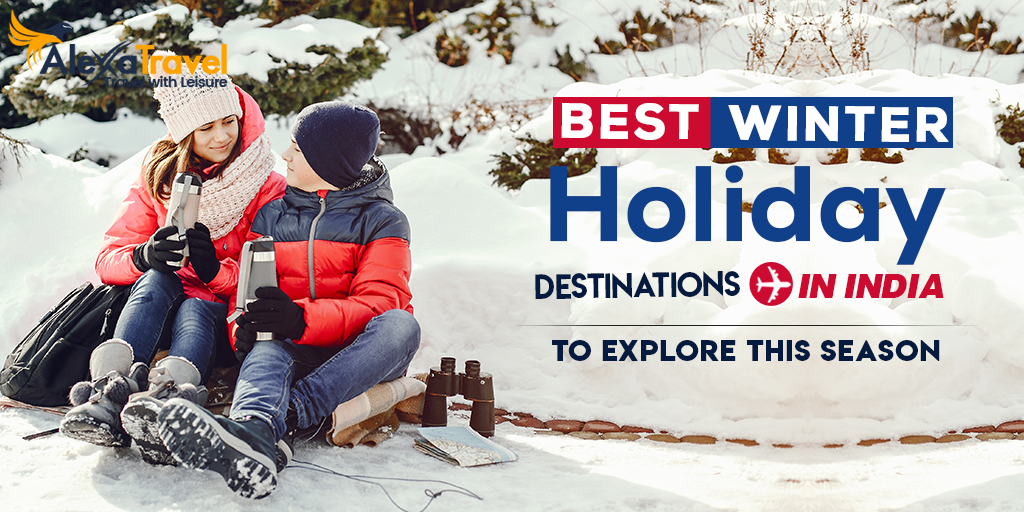 October 14, 2019 at 8:41 am
Explore these winter destinations in India this Year
This winter says bye to your boring workaholic life and makes it adventures and delight. Get up people and pack your bags and explore your favorite destination in India from USA at the cheapest price.
If you are a traveler and want to explore India in this winter then this post is definitely for you, here we compiled a full list of some most highlighted destinations in India which you must visit at least once.
JAIPUR (THE PINK CITY OF INDIA)
Jaipur is the capital of Rajasthan and popularly known as the pink city of India.
The city is famous for its royal beauty in all over the world and in the winter season, the city organizes many popular festivals which will definitely gives you internal pleasure and also in this weather you can be the witness of amazing sightseeing views of this royal place of India.
Hawa Mahal, city palace, Amer fort, Jal mahal, and janitor mantra will defiantly attract you from there memorizing beauty.
UDAIPUR (THE CITY OF LAKES)
After seeing the royal beauty of Jaipur Rajasthan has one more blast and that is Udaipur. You can also say one of the most popular romantic destinations of India and it is popularly known as the Venice of Asia. This city is spotted with remarkable palaces and heritage sites which are turned in some famous and luxurious hotels now. You can have a boat ride and get the delightful experience of sightseeing with your loved one. The beauty of jag mandir, city palace, and lake Pichhola will defiantly take your heart. Udaipur is one of the best places to visit in winter.
PUDUCHERRY (THE FRENCH CITY OF INDIA)
Can' t go France don't worry you can go Puducherry anytime and feel like you are in France. It has rich French colonies which will take you to France surely. The main tourist spot in Puducherry is basilica of the scared heart of Jesus, Pondicherry museum and immaculate conception cathedral which will surely attract you.
MUNNAR (TEA PARADISE )
Munnar is located in Kerala, and it is one of the most famous honeymoon destinations in India. You can do so many adventures there such as: "trekking, rock climbing etc) usually you can visit Munnar in any of the months but winter gives you more adventure at Munnar with its marvelous sightseeing views. Anamudi, TATA Tea museum and Eravikulam national park is the famous tourist sight in Munnar.
KARNATAKA (THE ANCIENT GLORY OF INDIA)
when you will see the history you will get to know that Karnataka was the center of most powerful empires of medieval and ancient India. Karnataka is one of the most popular choices for tourism in India. Ancient model temples , well-established city, dense Forrests in Karnataka are the full package of the tour with the cocktail of adventure and peace. The breathtaking view of Jog waterfall will defiantly make you insane and also the beauty of Coorg hill station Karnataka will surely attract you.
MYSORE (KARNATAKA)
Mysore is also famous for its royalty. The remarkable places of Mysore will mesmerize you with its royal beauty. Not only the paces intact the food such as mouthwatering Mysore Pak will leave the remarkable dot on your heart. There is no place in Mysore which you want to skip. Trust me this royal city is one of the best places in India to visit in winter.Famous tourist attraction of Mysore is Mysore zoo, Mysore palace, and Jaganmohan palace.
SHIMLA ( THE QUEEN OF HILLS)
Shimla is the capital of Himachal Pradesh and also famous as the queen of hills in India. And Shimla is the most highlighted and one of the popular places to visit in India especially in winter. This city has its own charm and it leaves the remarkable dot on the hearts through its amazing beauty. You can get the experience of heavy snowfall in the valley in winter and also you can do an adventure like ice skating and skiing in winter.
Jakhu temple and Shimla ridge will defiantly attract you with its beauty. You must visit Shimla at least once in life.
MANALI
Manali one of the famous hill station of India and of course how can we all forget " yeh jawani hai deewani".this the most highlighted destination for adventure here you can get the experience of trekking, skiing , you can enjoy the adventure of tent life while your Manali trekking trip.
The mesmerizing beauty of Rohtang pass, Solang valley, and Bhrigu lake will definitely attract you the most
RISHIKESH
Rishikesh is also famous as the adventure capital of India and winter is the best time to visit in Rishikesh. You may cherish yourself with various adventure activities such as bungee jumping, clip jumping, flying fox and river rafting.
If you are fond of such adventure things then you must visit Rishikesh at least once in a life.
So, here some best places in India to visit in winter so now leave the boring life and fill your life with lots of memories and adventure activities. Want to enjoy the holidays with your family in some of the most wonderful locations in India? Skip the chilling winters and hop on to the cheapest round trip flights to India from USA with our special USA to India flight tickets deals.