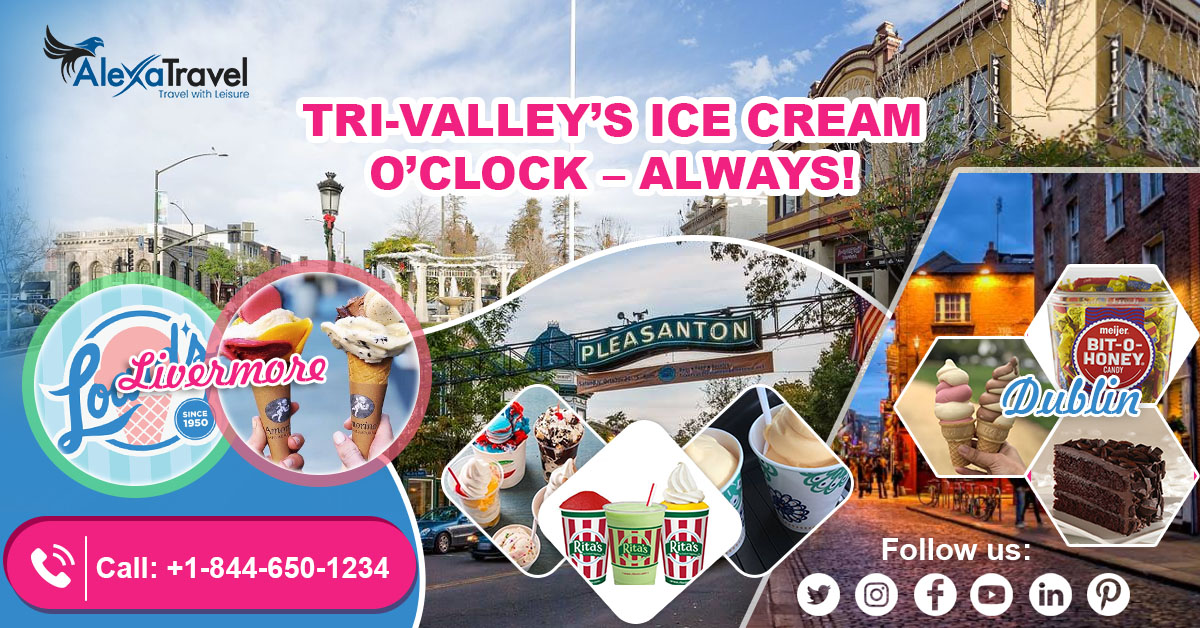 December 12, 2019 at 7:04 am
TRI-VALLEY'S ICE CREAM O'CLOCK – ALWAYS!
Tri-valley…… a gold state with abundance of wine and beer trails is also a home of exquisite cuisine and delectable frozen treats.
Even after exploring a bunch of wine tours and breweries, I'm here again for the tour of irresistible ice-cream trail of Tri-valley with 16 extraordinary ice cream or gelato shops in this triangular region. Can you think of more tasty way of connecting the beautiful cities of Pleasanton, Livermore, Dublin, San Ramon, and Danville?
Why settle for just scoop when you have more than dozen distinguished treats are waiting for you. Bring out your inner ice cream fanatic and hop aboard for the journey of cones and cups which is an epitome of Tri-valley.
Pleasanton:
Have a delight of handcrafted ice cream from your chosen flavor of fresh fruits. This refreshing frozen treat is rolled into the bowls (Thai style) with your choice of toppings. (They have unlimited toppings o choose from)
Want to grab some ice cream but worrying about the fats???
Rita's provide trans-fat free ice creams with more than dozens of flavors. The cool treats includes Italian ice (even sugar-free!), Cream ice, Concretes, Sundaes, Gelati, Misto, Blending, Milkshakes, Frozen drinks, Frozen Custard Cakes, Custard cookie sandwiches and what not….. Customize your own paradise of the scrumptious offerings with 20 toppings.
Feeling the rush to roam through each and every nook of Tri-valley, but cannot skip the ice cream. Then, Meadowlark Dairy's drive-thru is your one stop solution, which offers affordable and delicious cones with customized flavours.
A Flavor Brigade with more than 30 flavors of water ice (Italian ice) has something for everyone. The dessert offered is gluten-free, non-dairy and even zero cholesterol! Every ingredient of this healthy dessert is made with fruit-puree, sugar, and water, so it's for Vegetarians and Vegans as well (everyone).
This Italian hub is sure to amaze you in summers as well as winters with their variety of servings from fragrant, smooth gelato to Traditional CioccolataCalda, a hot chocolate cup.
Livermore:
Amorino Gelato Al Naturale
Amorino renders a vivifying sorbet from exotic fruits. In addition to the mouth-watering gelato burgers and waffle sticks it offers customized, picturesque cones shaped into flowers (Instagram worthy)
Keeping the traditional ice cream intact, they are serving since 1950. A perfect blend of classic and seasonal flavors they provide scrummy ice creams.
Make sure not to restrict to just cups and cones of ice cream so that you enjoy a complete ice cream meal.
Yes, it's right. A perfect meal of cookie ice cream sandwiches, ice cream tacos, rich and delicious brownies, palatable waffles and do's ants and a cross between a donut and a croissant that too in the flavor of your choice.
Still waiting for more…. Cream also serves vegan cookies, gluten-free cookies and even soy ice cream.
Dublin:
This restaurant offers an assortment of ice cream and authentic Taiwanese desserts like crepes and boba tea to savor your tongue. If you want to grab a quick bite then this is the stop for you.
Have a tang of Japanese crepe rolls, one-of-a-kind boba tea creations with the hint of limited-edition flavors. Enjoy the aromatic coffee with yummy ice cream at this stop.
Danville:
Just want to eat the gelato ….. how will you resist yourself from quintessential cakes( even gelato cakes). Feel the contentment of cakes and gelato at this point.
A tour to this Street makes you feel like a trip to Charlie's Chocolate Factory! It is dream come true. Live your childhood fantasy and grab every candy and sweet treat that you imagine.
Let's begin the flavorsome journey with Alexa Travel and avail the best flight deals from India to USA for your hassle-free journey.
Buy happiness by buying ice cream.