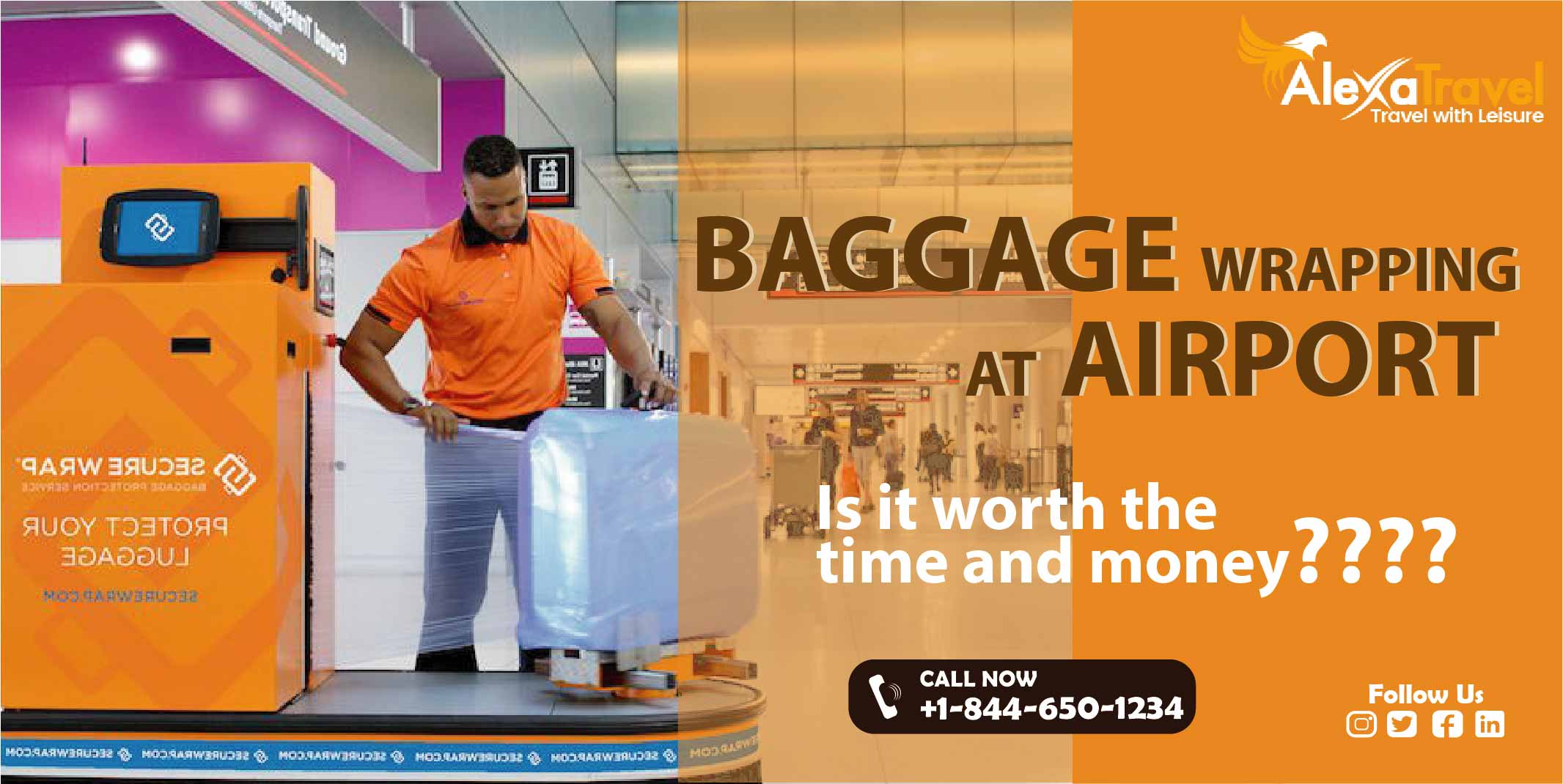 October 22, 2019 at 8:28 am
Baggage Wrapping at Airport: Is It Worth The Time And Money??
From like past two decades, we are observing travelers on almost every international airport around the world wheeling the plastic laid suitcases. We always wonder is it just for the peace of mind or the packaging actually worth all the time and money??? As a true travel companion, Alexa Travel assures that we give you a detailed explanation to make your journey serene. So, let's dive into some facts for what it's literally for.
The foremost question that pops up is…… why???
The answer is quite apparent….. Security. Your luggage has to bear a toll-like the quick and rough loading and unloading from planes by baggage handlers causing scrapes and gashes along with bumps, spilled liquid, bad weather and what not…….. Hence, an extra layer of protection prevents the suitcases form all the unnecessary scratches and even bursting of the bag. This plastic packaging also deters pilfering by would-be thieves.
You will find these plastic wrapping kiosks in every nook and corner of almost every European and Asian international airport and in US you can give your baggage a plastic wrapping at Miami, New York-JFK, and Houston's George Bush Intercontinental Airport. The kiosks like Seal & Go, TrueStar, and Secure Wrap facilitates their customers with a free sticker with packaging that allows tracking.
You must be thinking that how you can manage time and of course the money for all this encasing of your luggage in several layers of Saran Wrap-like plastic. You need not to worry about this, as this safety coating takes only about a minute and it generally costs somewhere around $15-20 for one regular-sized bag and it can goes up to $22 or more for oversized/irregular items including golf clubs and bikes.
Your plastic shielding does not restrict TSA (Transportation Security Administration) from unwrapping your suitcase if something suspicious gets flagged on EDS (Explosive Detection System Machine) scanners. And no, they are not going to re-wrap your luggage; however, they make sure to cause the least damage to the baggage as well as the valuable possessions it contains by following a target search method. But, to your delight some companies offer the facility of re-wrapping when opened by TSA.
By having so much of plastic talks, the thought of environmental damage hovers our mind at one time or the other. Now, you can be assured of environmental safety on this plastic encasing uses 100 percent recyclable, non-toxic, tamper-resistant/evident plastic film and even most of the companies advise the travellers to remove the plastic in the baggage claim area and recycle it at the airport.
You can now safeguard your luggage with extra covering without getting concerned of the factors like time, money and environment. So, leave your worries on Alexa Travel and take the contentment of clouds beneath you and fly without problems.