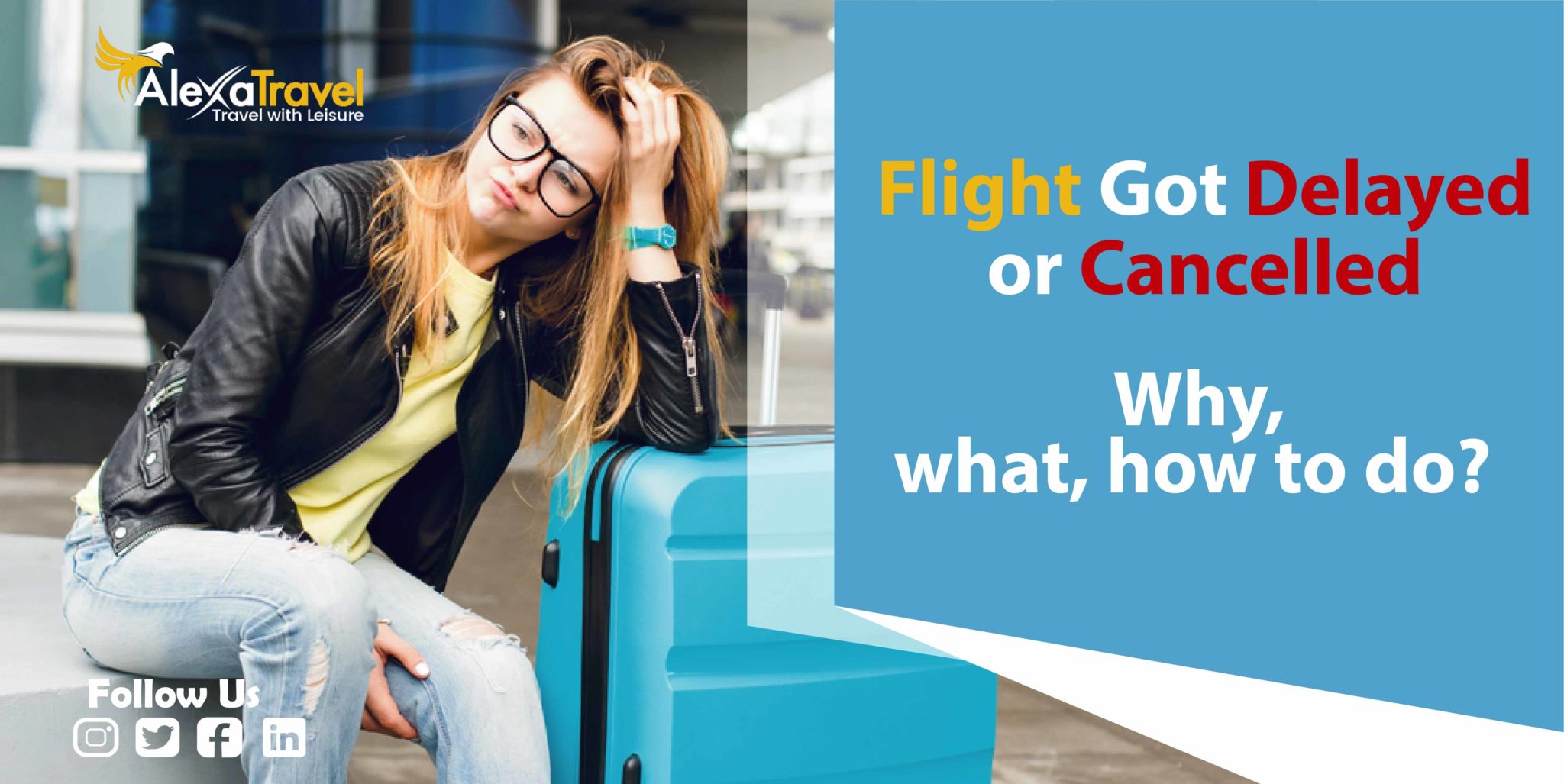 October 21, 2019 at 7:35 am
Flight got delayed or cancelled..Why, What, How to do???
Your flight has been delayed/ cancelled." This statement strikes as a bummer. With every forwarding step towards the airport, every traveller dread the fateful situation of your flight getting delayed or worse, cancelled. The moment you hear this announcement that you are stranded, you got panic and a sudden burst of multiple thoughts cloud your judgement with a scenarios of what to do and what not to do…….. We have learnt it the hard way that you can never have guarantee of your flight schedule. Why get troubled when travel fly deals is here for troubleshooting. We know that there's no fun way of dealing with this situation and the delays and cancellation is a part of air travel so, we will give a deep insight to the whole scenario.
Why flights get delayed or cancelled? Yeah….Why?
Why all this happen in the first place???
This is the prime question that pops up into the mind and there can be a number of reasons for this. Let's have a glimpse into the most common factors
From the past three decades the count of passengers get approximately three-fold so, along with this rise the number of reasons for people boarding the flight late like health hazards, hunger or even over some petty fights.
With this ever-increasing travellers the number of flights increases in conjunction to this hence, your flights gets delayed in accordance with the air traffic restrictions of like changing routes or radar coverage.
We all concur to the fact that aircraft technology is improving with each passing day, but this still can't put a halt to emerging technical problems which obviously needs to be documented and addressed because "safety comes first" and YES….. This causes a delay in your flight or sometimes be the reason of cancellation.
The factor why your aircraft is grounded id the regulations ensuring the rest of their crew which gets prolonged due to the delay of the previous flight.
Now, you can neither anticipate nor fight this factor –"act of God". There are many instances when the flight get delayed and after that cancelled because of the adverse weather conditions.
Sometimes you get encountered with the most astonishing reasons like a UFO siting, long security lines, striking of a lightning bolt or the strike of the conjunction of birds, however most of the time you get to hear the most common expression "operational reasons" as if it serves as the waiver of every responsibility. There can be plenty of reasons for the terrible situation but you should be aware of the techniques of handling if you got stuck amidst the situation (hopefully which will not happen ever- prepare for the worst).
How to manage??
As a customer, you should be aware of your rights and power (they are quite few, but preparation is must). Initially, you need to enquire about the reason of the delay or cancellation of your flight then don't be afraid to ask for the compensation from the airlines (some companies consider customer demand as the best option).
In US specifically, after a delayed flight airlines provide you with compensation according to some regulations, however, many airlines have their own rule book opt for what's called a Contract of Carriage, which states that you are entitled to Potential food vouchers, discounts, refunds, or a hotel stay in the event of a flight delay when the airline is at fault.
If the flight is cancelled with the effect of adverse weather conditions then it comes under act of God, and you are entitled to any compensation. But, if the cancellation is due to any mistake of airline or airplane, then you have all the rights to avail about meal and accommodation vouchers and even shuttle ride to and from the hotel to avoid any panicking situation for the next flight.
It is easier to handle cancellations when you have your carry-on bags alongside you, but in case it not and airline has to reroute your checked baggage (which might take a little extra time), then your bags will get delivered to your destination without any extra expenses. In this case just ensure to have the receipts of your luggage till the moment you get your baggage.
If you have to linger for the night( in wait of the next flight) and your toiletries moved with your checked luggage then you can have an amenity kit containing some essentials like a toothbrush, toothpaste, a sleep mask, lip balm, ear plugs, lotion, etc. from the baggage service office of the airline. (Under Article 22 of Montreal Convention the customer is entitled to a maximum pay-out of approximately 5870USD when proven with the evidences of financial loss which could be avoided with the reasonable measures of the airlines) So, here's a special note- to read all terms and conditions carefully before making any reservation and try to keep those handy. If you are on the check-in counter when you get this awful news then stay there and try to get rebooked on the spot, if not applicable (connection or delay to the destination) then you have the right to get a refund of your ticket.
Remember not to fall asleep awaiting your delayed flight. Sometimes, the airplane is ready prior to the prescribed time and if you don't heed to announcements then you might miss your flight and be left there (without any compensation). Along with some out of the ordinary situations you are not entitled to any compensation if you got the information regarding the cancellation of flight two weeks before the departure or you are provided with a re-routing facility between 2 weeks to 7 days prior to departure scheduling your departure time not more than 2 hours before and your arrival time 4 hours after as planned and if the information gets to you in less than 7 days then the departure time can be 1 hour before with the arrival time of 2 hours after as pre-scheduled.
To gather more information for your compensation and to get your claim you can have a look at the EU regulation 261 (provided your flight is eligible under this regulation). I know the knowledge your flight getting delayed/cancelled is frustrating and spoils your travel plans in one go, but try not to panic and not to exasperate on the airline employees as it's not their fault that you are facing this situation (being friendly comes out to be added advantage in getting compensation or re-routing). And don't forget that Alexa Travel is at your service and make no stone unturned to facilitate you a safe and hassle-free journey.