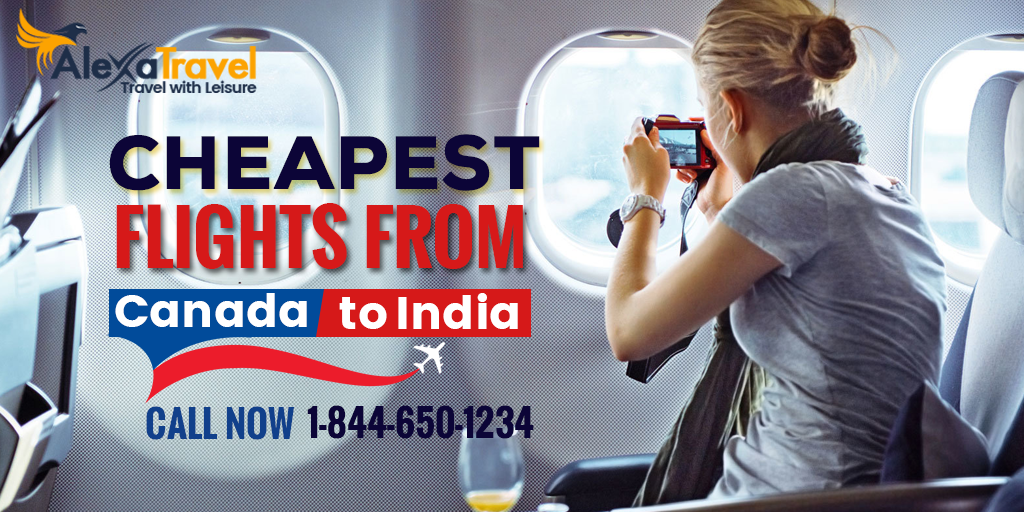 October 15, 2019 at 1:01 pm
Some tips to get low-fare flights from Canada to India
It doesn't matter if you are a first-time flyer or a frequent one when you go through the flight booking process, it becomes overwhelming to get the budget-centric air travel travels considering numerous factors like price, fare class, dates, times, airline, and whatnot. For this you have to spend sleepless nights searching for innumerable airlines and OTA's (online travel agencies), if you are fortunate enough, you will get some benefit out of it (otherwise you will be empty-handed).
To seek out of this vicious cycle, your true travel companion, Alexa Travel has come up with some amazing tips which you can follow while going for flight booking from Canada to India to get your desired prices.
Flexibility
The key to grabbing the cheap flights from Canada to India is flexibility.
Flexibility with dates: to get the tickets at a fixed date at the cheap rate is next to impossible task. A little deviation can earn you a great deal like go for weekdays for traveling instead of weekends (which are generally expensive) and wait for the least expensive dates to book a reasonable air ticket.
Travelling before and after festivals, never a reasonable affair as compared to taking the journey on the day of festival which is quite cheaper.
Flexibility with destination: if you are sticking to your departure and arrival destinations, then it's difficult to find a flight ticket at a cheaper price. The fluctuation in your destination can make you score lesser priced tickets. (Better to go for less popular airports than the famous ones)
Flexibility with airlines: some tiny adjustments in your comfort can land you with amazing price deals. Go for connecting flights to reach India from Canada as it saves a ton instead of going for the direct one. (For connecting flights from New Delhi to Canada Zurich, Munich, Frankfurt, London, and Amsterdam are the major layover airports)
 A secret search
Your websites keep track of your searches through cookies; hence the fares drastically increase with a frequent search on your search engine. So, to avail the cheapest flight tickets from Canada to India, it is advisable to clear your search history before going for the ticket hunt, even better you can go for the incognito window for low airfares.
Peak travel
Prior research is never harmful.
No worries…..
We'll do that for you.
So, according to lots and lots of research, it is witnessed that airfares increases in the month of June, July and August and not to forget the festival timing due to increased traffic from Canada to India.
It's better to avoid visiting in the peak season and save a hefty amount.
Extra Luggage
We know that every airline has its baggage policy and we have to pack the luggage in accordance with those norms. To prevent yourself from bearing extra charges have limited stuff in your baggage so that you don't have to pay even a penny more for extra luggage.
To get unmatched airfares from Canada to India, visit Alexa Travel and fly according to your desires.